Because our clients are everyone from homebrewers to small beverage companies to large breweries, we work with people that have a wide range of graphic design experience. Some people only sketch a design while others are able to provide us with print ready graphics. Whether your experience is the former or latter we are able to help get your ideas made into a tap handle.

No matter where you're at on your graphic design experience level, the most helpful thing you can do is provide the highest quality graphics available to us. There are two types of graphics, vector and raster. Actual pictures are always raster graphics while text, most logos, and other commercial artwork are often vector graphics.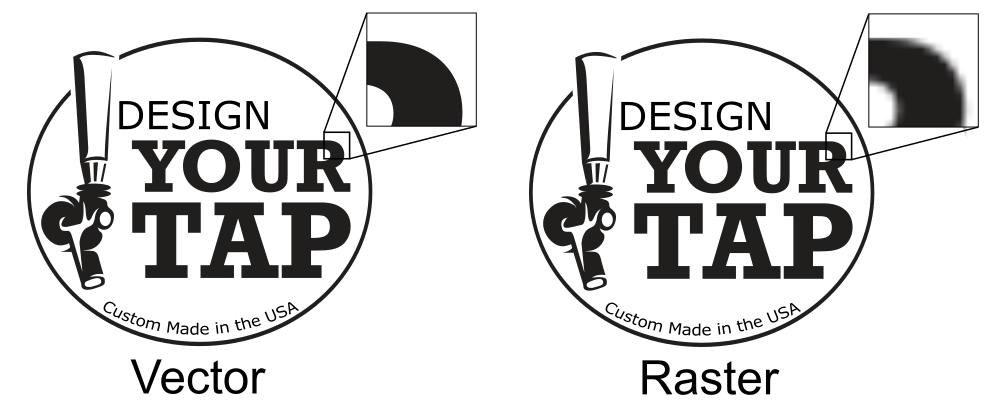 Raster Graphics
We have a number of different ways to help put together a tap handle design. You're able to use our online design tool on our custom stock tap handles. If you send us your idea via a quote request with image(s) we can help you make a design. The most important thing is for any image is to send us the best quality vs available. Higher resolution and higher size images are always better. Most of the time we are able to use most images, however sometimes images can be so low quality that they are not able to be used.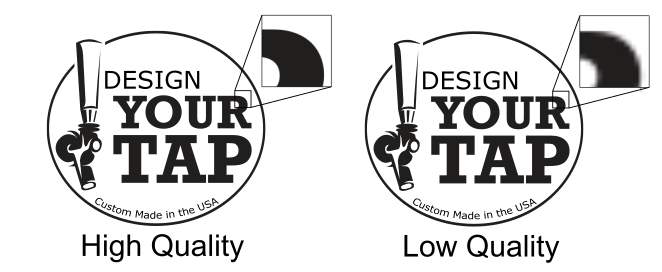 Vector Graphics
We always prefer vector graphics if available. A vector file can contain multiple elements to make it print ready. The most common program used to edit them is Adobe Illustrator but Inkscape is a good free alternative. The most popular format for these are ai, pdf and eps. If you are able, it's best to have the document color mode set to CMYK to make the most accurate for our processes. If you are using a custom font it is also helpful to convert the text to outlines. If your graphic contains raster graphics, for best quality it is best to set the output resolution to 720 dpi. 

Because our online design tool for custom stock doesn't accept vector graphics, you can email them with your order number to the email on the lower right of the website so we can add them to the artwork.

All this go over your head? Don't be afraid to contact us with what you're looking for and what you have and we'll do our best to get a great looking tap handle.